Preston Park
Trail Features:
Outstanding views, Meadows, Wildflowers


Trail Location:
Siyeh Bend
Roundtrip Length:
7.1 Miles
Total Elevation Gain:
1415 Feet
Avg. Elev Gain / Mile:
399 Feet
Highest Elevation:
7237 Feet
Trail Difficulty Rating:
9.93 (moderate)
Parking Lot Latitude
48.70145
Parking Lot Longitude
-113.66959
Trail Description
:
The hike to Preston Park begins from the Siyeh Bend Trailhead, located 2.2 miles east of Logan Pass on the Going-To-The-Sun Road. Hikers also have the option of using the Piegan Pass Trailhead from the Jackson Glacier Overlook, but this would add a little more distance to your hike, and several hundred more feet of climbing. The Siyeh Bend Trail offers hikers a much more gradual climb to their destination.
The first two hundred yards of the Siyeh Bend Trail travels alongside Siyeh Creek, before making a sharp turn to the right and into the forest. At roughly 1.1 miles from the trailhead hikers will arrive at the Piegan Pass Trail junction. A turn to the right leads down to the Jackson Glacier Overlook. To continue on towards Preston Park, hikers should turn left here.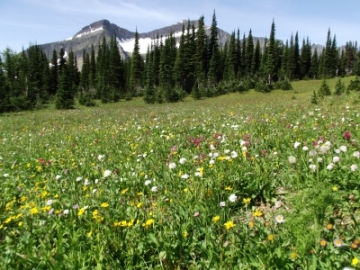 The lower elevations of the hike passes through a dense spruce-fir forest. The forest, however, begins to thin out as you approach the Siyeh Pass Trail junction, located almost 2.7 miles from the trailhead. For those wishing to continue on towards Preston Park you should turn right onto the Siyeh Pass Trail at this junction.
Roughly two-tenths of a mile from the junction hikers will enter Preston Park, a glacially-carved valley known for its incredibly beautiful meadows and abundant wildflowers. Preston Park is actually a series of high alpine meadows interspersed by stands of pine trees. The meadows become increasingly larger as you proceed further up the valley.
As you continue up the trail you'll have commanding views of 9365-foot Matahpi Peak towards the south, and 10,014-foot Mount Siyeh towards the north. Piegan Mountain will dominate the view towards the west, while the pyramid-shaped Heavy Runner Mountain can be seen towards the southwest.
At roughly 3.5 miles from the trailhead hikers will cross Siyeh Creek. Soon after the trail begins climbing towards the pass. If your goal is to see some of the breathtaking mountain views from Preston Park, any place beyond the creek will achieve that. From this point forward hikers can turnaround anywhere in this area; it only depends on how far you wish to push yourself. The higher you go, the better the views become. Continuing on to Siyeh Pass from this point would be a hike of another nine-tenths of a mile, and a climb of roughly 675 feet.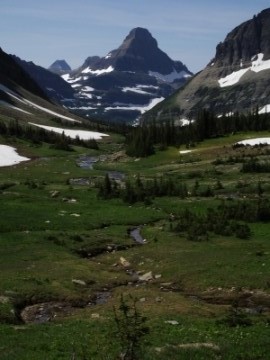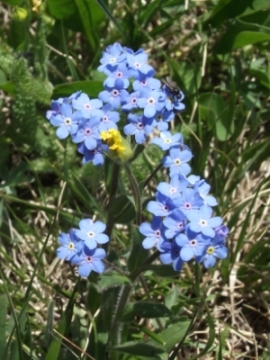 You may also want to note that bears are known to frequent the Preston Park area, so make sure you make a lot of noise, carry bear spray, and hike in groups of at least three.