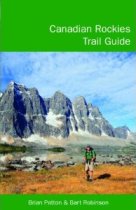 The Canadian Rockies Trail Guide
is one of best-selling non fiction books in Canadian publishing history. Hikers refer to the guide as the Bible. The book covers more than 3400 km (2100 miles) of trails in Banff, Kootenay, Jasper, Yoho and Waterton Lakes National Parks.
Waterton Lakes National Park
Just north of Glacier, across the Canadian border, is the other half of the Waterton-Glacier International Peace Park.
Waterton Lakes National Park lies on the eastern slopes of the Continental Divide in southwestern Alberta. The park features a unique blend of unusual geology, a relatively mild climate, rare wildflowers, as well as an abundance of wildlife. Much of this is due to the terrain, which follows an abrupt transition from the prairie grasslands to the rugged, wind-swept peaks that form the Continental Divide. The meeting of species from the northern forests, prairies, and mountains at one of the narrowest spots in the Rocky Mountains has resulted in Waterton's unusual ecological diversity.
Encompassing roughly 203 square miles, Waterton Lakes became Canada's fourth national park in 1895. At 9645 feet, Mt. Blakiston is the park's highest peak, and with a maximum depth of 487 feet, Upper Waterton Lake is the deepest lake in the Canadian Rockies.
In 1932 the park was joined with Glacier National Park to form the Waterton-Glacier International Peace Park – the first of its kind in the world. As a result of its ecological diversity, Waterton-Glacier became a World Heritage site in 1995.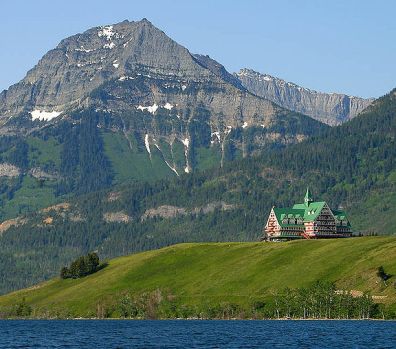 One of the most famous attractions in Waterton Lakes, as well as one of the most photographed hotels in the world, is the Prince of Wales Hotel. Constructed in 1927 by the Great Northern Railway, this stately hotel is located high on a bluff overlooking Waterton Lake and the town of Waterton. The Prince of Wales is famous for its striking architectural designs, including the high gabled roofs and dormers, carved beams, and ornamented balconies, all of which give the hotel a romantic alpine chalet feel.
Waterton Lakes offers a variety of activities, including scenic boat cruises and scenic drives, as well as a host of outstanding outdoor activities. Outdoor adventures to be found within the park include climbing, cycling, horseback riding and fishing. With an abundance of lakes, visitors have several ways in which to enjoy the water, including boating, water skiing, sailboarding, scuba diving and swimming.
Of course the most popular outdoor pursuit in the park is hiking. Waterton Lakes National Park has roughly 120 miles of hiking trails, ranging from easy strolls, to strenuous wilderness hikes. Waterton is a particularly good place to enjoy a variety of shorter trails which can be easily completed in just a few hours or a day. And, unlike Glacier, some trails are open to bicycles.
For backcountry users, an overnight wilderness pass is mandatory, and is available from the Visitor Reception Centre. Some sites can be reserved in advance by calling 403-859-5133.
The following is a list of the most popular hikes:
| | | | |
| --- | --- | --- | --- |
| Trail | Trailhead | RT Distance (miles) | Elev Gain (feet) |
| Akamina Lake | Cameron Lake | 0.6 | minimal |
| Bears Hump | Visitor Centre | 1.7 | 656 |
| Belly River | Belly River Campground | 3.6 | minimal |
| Bertha Lake | Townsite | 7.1 | 1640 |
| Blakiston Falls | Red Rock Canyon | 1.2 | minimal |
| Blakiston Valley | Red Rock Canyon | 12.6 | 1148 |
| Cameron Lakeshore | Cameron Lake | 2.0 | minimal |
| Carthew-Alderson * | Cameron Lake or Cameron falls | 11.2 (one way) | 2133 |
| Crandell Lake | Crandell Campground | 2.5 | 492 |
| Crandell Lake | Akamina Parkway | 1.5 | 328 |
| Crandell loop | From Akamina & Red Rock Parkways | 12.8 | 656 |
| Crypt Lake | Crypt Landing | 10.7 | 2297 |
| Forum Lake, BC | Akamina Parkway | 5.0 | 984 |
| Goat Lake | Red Rock Canyon | 7.8 | 1312 |
| Horseshoe Basin | Bison Paddock | 13.2 | 1148 |
| Lakeshore Trail | Waterton Townsite-can return by boat | 8.1 (one way) | 410 |
| Lineham Falls | Akamina Parkway | 5.2 | 656 |
| Linnet Lake | Dock area across from Warden Office | 0.6 | minimal |
| Lower Bertha Falls | Townsite | 3.5 | 492 |
| Lower Rowe Lake | Akamina Parkway | 5.0 | 820 |
| Prince of Wales | Emerald Bay | 1.24 (loop) | minimal |
| Red Rock Canyon | Red Rock Canyon | 0.4 | minimal |
| Rowe Meadow | Akamina Parkway | 6.5 | 1148 |
| Snowshoe | Red Rock Canyon | 10.2 | 492 |
| Summit Lake | Cameron Lake | 5.0 | 1001 |
| Tamarack Trail * | Akamina Parkway - Red Rock Canyon | 19.6 | 1969 |
| Twin Lakes | Red Rock Canyon | 14.2 | 984 |
| Upper Rowe Lake | Akamina Parkway | 7.8 | 1640 |
| Wall Lake, BC | Akamina Parkway | 7.0 | 541 |
| Wishbone | Chief Mountain Hwy. | 13.0 | 164 |
* requires transportation to, or back to, trailhead
Click here to visit the Waterton Lakes National Park website. For additional travel information, please visit Waterton.ca or Pure Experience: Waterton Lakes National Park.
U.S. - Canadian Border Crossing
A visa is not required for U.S. citizens visiting Canada for less than 180 days.
Entry into Canada is solely determined by Canadian Border Services Agency (CBSA) officials in accordance with Canadian law. Please see the CBSA's website for details. Canadian law requires that all persons entering Canada carry both proof of citizenship and proof of identity. A valid U.S. passport, passport card, or NEXUS card satisfies these requirements for U.S. citizens. Children under 18 must present proof of citizenship and identity. The CBSA website provides further details about bringing children into Canada.
U.S. citizens entering Canada from a third country must have a valid U.S. passport.
If you plan to travel to Canada with a minor that's not your own child or for whom you do not have full legal custody, CBSA may require you to present a notarized affidavit of consent from the minor's parents. Please refer to the CBSA website for more details. There's no specific form for this document, but it should include dates of travel, parents' names and photo copies of their state-issued IDs.
When returning to the United States from Canada, it is very important to note that all U.S. citizens are required to present a valid U.S. passport to enter or re-enter the United States via air. For entry into the United States via land and sea borders, U.S. citizens will need to present either a U.S. passport, passport card, NEXUS card, Enhanced Drivers License or other Western Hemisphere Travel Initiative (WHTI)-compliant document. The only exception to this requirement is for U.S. citizens under the age of 16 (or under 19, if traveling with a school, religious, or other youth group) who need only present a birth certificate (original, photocopy or certified copy), Consular Report of Birth Abroad, or naturalization certificate.
For more information please click here.

Border Crossing Dates and Times:
There are three border crossings in the vicinity of Glacier National Park:
Roosville (open 24 hours): west of the park on Highway 93, north of Whitefish, MT and south of Fernie, B.C.
Piegan/Carway (7 a.m. to 11p.m.) east of the park at the joining of U.S. Highway 89 with Alberta Highway 2
Chief Mountain: Near the northeastern corner of the park, at the joining of Montana 17 with Alberta Highway 6. Here are date and times of openings:
5/15 to 5/31 (9:00 a.m. to 6:00 p.m.)
6/1 to 9/7 (7:00 a.m. to 10:00 p.m.)
9/8 to 9/30 (9:00 a.m. to 6:00 p.m.)
October 1 - closed for season.
For the most up-to-date border crossing information, please click here.