Twin Falls
Trail Features:
Waterfalls


Trail Location:
Two Medicine Boat Dock
Roundtrip Length:
2.3 Miles
Total Elevation Gain:
115 Feet
Avg. Elev Gain / Mile:
100 Feet
Highest Elevation:
5275 Feet
Trail Difficulty Rating:
2.53 (easy)
Parking Lot Latitude
48.48381
Parking Lot Longitude
-113.36954
Trail Description
:
Hikers have the option of starting the hike to Twin Falls from either the North Shore Trailhead at the Two Medicine Campground, or the South Shore Trailhead at Two Medicine Lake. However, you can shave roughly 4.8, or 6.4 miles, respectively, off your roundtrip hike by taking the shuttle boat across Two Medicine Lake. The following describes the hike for those wishing to take the boat to the west end of the lake. Please note that there is a fee for the shuttle ride.
After arriving at the boat landing your hike begins with a walk along a short section of boardwalk that passes over a sensitive, boggy area. Although I've never seen one here, this is likely a good place to spot a moose, especially during the morning hours. A short distance later you'll arrive at the South Shore Trail junction, which connects hikers with the Two Medicine Pass Trail. To continue towards the falls you should proceed straight ahead here.
The early portions of this hike passes through an area thick with ferns, thimbleberries and huckleberries.
Roughly three-quarters of a mile from the boat landing the trail crosses a footbridge. A short distance later you'll reach the North Shore Trail, which connects hikers to the Dawson Pass Trail. Hikers should proceed straight ahead at this juncture, which now becomes the Upper Two Medicine Lake Trail.
Just past the junction the 7620-foot Pumpelly Pillar comes into view, which will be directly in front of you. The glacially carved, cone-shaped rock is named after Raphael Pumpelly, leader of the Northern Transcontinental Railway Survey party that crossed Pitamakan Pass in 1883.
Roughly one mile from the trailhead you'll reach another creek crossing. Just beyond this point is the side trail that leads to Twin Falls. From the junction it's an easy walk of less than a tenth-of-a-mile to reach the base of the falls.
As you make your way up to the falls you'll pass several huckleberry patches along the way.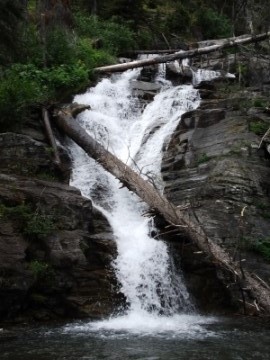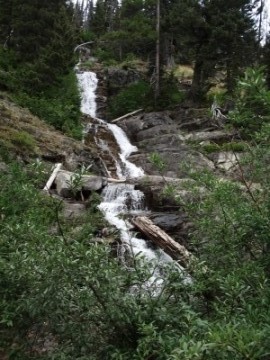 Twin Falls is a beautiful set of cascades flowing off the eastern slopes of Pumpelly Pillar. The two falls are separated by roughly 50 feet before converging again near the trail.
From this point you'll have the option of continuing on for another 1.3 miles to visit the scenic Upper Two Medicine Lake. It's a very easy hike with very little elevation gain.