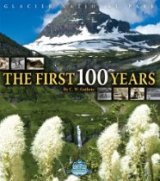 Glacier National Park: The First 100 Years details the amazing changes the park has undergone since 1910, including GNR's chalets & lodges. It features 200 historical photos, & some of the finest art of the region, including Charlie Russell.
Trail of the Cedars
Trail Features:
Forest hike, Waterfalls


Trail Location:
Avalanche Creek
Roundtrip Length:
1.0 Mile
Total Elevation Gain:
60 Feet
Avg. Elev Gain / Mile:
120 Feet
Highest Elevation:
3478 Feet
Trail Difficulty Rating:
1.12 (easy)
Parking Lot Latitude
48.6806
Parking Lot Longitude
-113.81923
Trail Description
: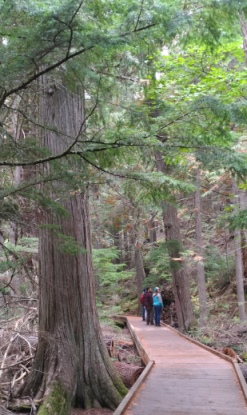 The Trail of the Cedars, one of two wheelchair accessible trails in Glacier, is a loop hike that begins and ends on the Going-To-The-Sun Road, located 5.5 miles east of the McDonald Lodge. Since this is an extremely popular hike, parking can be a problem during the peak travel season.
Obviously you can start from either side, but most people begin their hike on the eastern portion of the loop. This side of the loop travels along a raised boardwalk, and passes though a forest of ancient western hemlocks and red cedars.
Being situated on the eastern edge of the maritime climate of the Pacific Northwest, the Lake McDonald Valley also marks the extreme eastern limits for western hemlocks and red cedars. The humidity in the valley allows cedars to grow to heights of 100 feet, and diameters of 4 to 7 feet. Some of the trees in this area are more than 500 years old.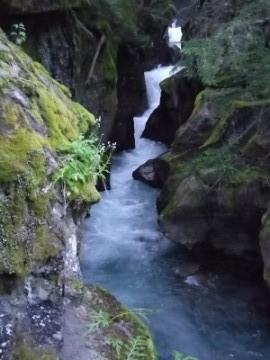 Look closely and you'll also notice the lush green of ferns and mosses growing along the forest floor. The boardwalk along this section of the loop encourages visitors to take their time as they walk through a habitat more normally found on the Pacific Coast.
At roughly the half-way point you'll reach the highlight of the trail, a footbridge over Avalanche Creek that provides commanding views of the lower Avalanche Gorge.
Just past this point is the Avalanche Lake Trail junction. For those wishing to get a closer view of the gorge you can walk about a tenth-of-a-mile up the Avalanche Lake Trail. It's a short, steep climb to the banks of Avalanche Creek, but you'll have a front row view of the amazing power of glacially melted water as it rushes down the gorge. From this point the trail continues on for another 1.6 miles to Avalanche Lake, in case you decide you want to explore more of this area of the park.
Continuing on the loop hike, the trail now proceeds over to the western half of the loop. The pathway on this segment is now paved. From here it runs past the Avalanche Creek Campground and back out to the road again.
The Avalanche Creek area of Glacier National Park was named by Dr. Lyman Sperry. While climbing the basin to reach the glacier that now bears his name, Sperry heard multiple avalanches roaring down the surrounding mountains.