St. Mary Falls
Trail Features:
Waterfalls


Trail Location:
St. Mary Falls Trailhead
Roundtrip Length:
1.7 Miles
Total Elevation Gain:
215 Feet
Avg. Elev Gain / Mile:
253 Feet
Highest Elevation:
4737 Feet
Trail Difficulty Rating:
2.13 (easy)
Parking Lot Latitude
48.6746
Parking Lot Longitude
-113.60807
Trail Description
:
The hike to St. Mary Falls begins from the St. Mary Falls Trailhead, located 10.6 miles west of the St. Mary Entrance Station on the Going-To-The-Sun Road.
With limited parking, and all three waterfalls in this area being popular destinations, parking can be an issue during the summer season. I would recommend arriving early to find a space, or taking the shuttle from Sun Point or Rising Sun to reach the St. Mary Falls Trailhead.
The hike begins on the St. Mary Falls Cutoff Trail. For a brief segment near the beginning of the trail, as you pass through an opening in the forest, hikers will have commanding views of 8064-foot Dusty Star Mountain as it towers directly in front of you. Looking towards the south will be 8922-foot Almost-a-Dog Mountain and 9541-foot Little Chief Mountain. And if you look towards the west you'll see Fusillade, Reynolds and Heavy Runner Mountains.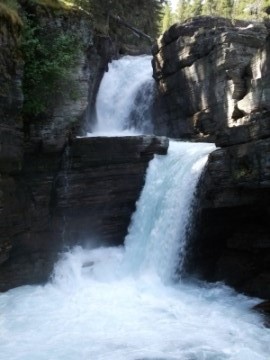 Soon the trail enters the canopy of a dense conifer forest, and at roughly one-quarter of a mile from the parking area, hikers will arrive at the Piegan Pass Trail junction. Hikers should turn right here, and then walk a few more yards where you'll reach another junction. The Piegan Pass Trail continues up the hill towards the right. To visit St. Mary Falls hikers should veer left onto the St. Mary Lake Trail at this juncture.
At six-tenths of a mile hiker will reach the St. Mary River. Soon afterwards you'll hear the thunder of crashing water, and in another quarter-mile, will finally arrive at St. Mary Falls, one of the more spectacular waterfalls in the park.
St. Mary Falls drops roughly 35 feet in three separate tiers, with the two largest being the most photogenic. A smaller waterfall can be found below the footbridge. Even on a hot August day the rush of water forces a cool breeze down the narrow gorge. You'll also notice the incredibly beautiful aqua-green color of the pools just below the falls.
Look for American dippers, also known as water ouzels, diving under the water in search of food near the falls. These small birds usually nest in the area as well.
If you thought these falls were pretty good, I highly recommend continuing along the trail, for less than another mile, to see the even more impressive Virginia Falls.