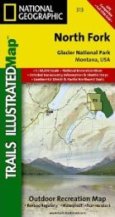 The
North Fork Map
includes: Lake McDonald, Apgar, Avalanche Basin, Sperry Chalet, Kintla Lake, Bowman Lake, Waterton Lake, and more. The Glacier sectional series maps have a scale of 1:50,000, and provide much greater detail.
Trail Map Bundle

: You can purchase all 3 Nat Geo Glacier trail maps here.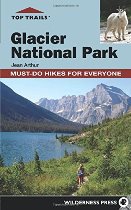 Top Trails: Glacier National Park. Local author Jean Arthur leads visitors to secluded trails and unique settings while providing details of current and past human activity, wildlife, and geology.
Sperry Chalet
Trail Features:
Outstanding views, Waterfalls


Trail Location:
Lake McDonald Lodge
Roundtrip Length:
12.3 Miles
Total Elevation Gain:
3360 Feet
Avg. Elev Gain / Mile:
546 Feet
Highest Elevation:
6560 Feet
Trail Difficulty Rating:
19.02 (strenuous)
Parking Lot Latitude
48.61686
Parking Lot Longitude
-113.87554
Trail Description
:
The hike to Sperry Chalet begins from the Sperry Trailhead, located across the road from the Lake McDonald Lodge. In a very short distance, after passing the horse path, the trail becomes known as the Gunsight Pass Trail.
Almost immediately the trail begins climbing, passing through an old growth forest of red cedar, western larch and hemlock in the lower elevations, to a dense spruce-fir forest as it ascends higher. Hikers will have already climbed more than 900 feet before reaching the Mt. Brown Trail junction, roughly 1.6 miles from the trailhead. Many hikers and horses will be sharing this heavily used segment of trail as they head up to Sperry Chalet and other points in the area.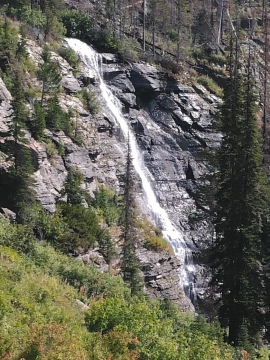 One-tenth of a mile past the Mt. Brown Trail is the Snyder Lake Trail junction, which also branches off to the left. Once past the junction the trail travels downhill for a short distance before crossing over Snyder Creek at Crystal Ford. Just across the footbridge is the Snyder Ridge Trail, which leads to Fish Lake. Hikers should veer left at this junction to continue on towards Sperry Chalet.
From the junction the trail begins climbing again. For a short time you'll follow Snyder Creek as it cascades down the valley directly below on your left. After a relatively short time the trail leaves the Snyder Creek valley and begins climbing up the Sprague Creek valley.
After following Sprague Creek for another two miles the trail reaches an opening where you'll have an outstanding view of the very impressive Beaver Medicine Falls, which will be on your right. Unfortunately the trail doesn't approach the waterfall for an up-close view.
After ascending several switchbacks hikers will round a corner, roughly 5 miles from the trailhead, where Sperry Chalet finally comes into view. You can spot it by looking straight above, roughly 2,000 feet or so below the top of the cliff face.
At roughly 5.75 miles hikers will arrive at a fork in the trail. Although there isn't a sign indicating which way to go, hikers should veer right and cross the footbridge over Sprague Creek to continue on towards Sperry Chalet. In this same vicinity you'll enter the outskirts of a beautiful sub-alpine meadow known as Glacier Basin. Look closely and you'll see at least five waterfalls flowing hundreds of feet down the cliff walls around you.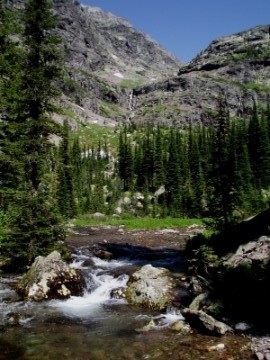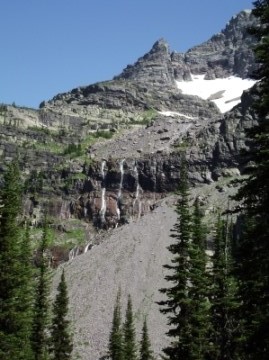 Roughly two-tenths of a mile later you'll reach another trail junction. The trail to the left leads to Comeau Pass and the Sperry Glacier observation point. To continue on towards the Chalet, turn right here. The Chalet is only two-tenths of a mile from this junction.
At an elevation of more than 6550 feet, Sperry Chalet sits high atop a rock ledge that offers visitors commanding views of majestic mountain peaks, waterfalls, as well as Lake McDonald in the valley far below. You should also keep an eye out for the mountain goats that are often seen wandering around in this vicinity.
The two main buildings at Sperry consist of a two story hotel and a kitchen/dining room. There's also a modern composting restroom facility located between the two buildings.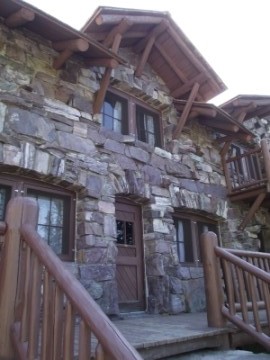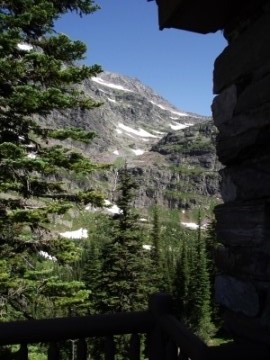 For those visiting Sperry on a day hike you may want to note that the dining room is open to the public from 11:30 a.m. to 5:00 p.m. every day. They offer a lunch menu that includes soups, sandwiches and snacks. For dinner or breakfast, reservations are required, and can be made by calling the reservation office at 1-888-345-2649.
Now listed as an Historic Landmark, the Sperry Chalet hotel was built by the Great Northern Railway in 1913, while the dining chalet was built in 1915. The Chalet was forced to close in 1992 due to safety and environmental concerns. Fortunately it was restored and reopened again in 1999. For more information, and to make a reservation, please click here.
On our most recent visit to Sperry in August of 2011, workers were still making repairs to the hotel building. Sometime during the historic winter of 2010/2011, an avalanche slid off Lincoln Peak and plowed into the south end of the stone dormitory building. Snow and debris damaged the roof, broke a door, took off some shutters, and blew open windows. Four rooms in the interior were completely filled with snow. The damage delayed the opening, and forced an early summer closure as crews worked to complete repairs before the next winter arrived.
If your preference is to sleep under the stars, backpackers have a couple of options in the area. Near the Chalet is a backcountry campground with four individual campsites. Three miles further up trail, at Lake Ellen Wilson, is another campground containing four sites.
Both the chalet and glacier were named after Dr. Lyman B. Sperry of Oberlin College, who scouted for "scenic attractions" on behalf of the Great Northern Railway. Sperry was the leader of the first party to reach the glacier in 1896. He also oversaw the construction of the trail that provided access to the glacier from the Lake McDonald Lodge. Dr. Sperry's trail, constructed in 1902 and 1903 by college boys from Minnesota, was likely the first organized trail-building effort in the park.