Snyder Lake
Trail Features:
Subalpine Lake, Scenic views


Trail Location:
Lake McDonald Lodge
Roundtrip Length:
8.7 Miles
Total Elevation Gain:
2045 Feet
Avg. Elev Gain / Mile:
470 Feet
Highest Elevation:
5247 Feet
Trail Difficulty Rating:
12.79 (strenuous)
Parking Lot Latitude
48.61686
Parking Lot Longitude
-113.87554
Trail Description
:
The hike to Snyder Lake begins from the Sperry Trailhead, located across the street from the Lake McDonald Lodge. In a very short distance, after passing the horse path, the trail becomes known as the Gunsight Pass Trail.
Almost immediately the trail begins climbing, passing through an old growth forest of red cedar, western larch and hemlock in the lower elevations, to a dense spruce-fir forest as it ascends higher. Hikers will have already climbed more than 900 feet before reaching the Mt. Brown Trail junction, located roughly 1.6 miles from the trailhead. Many hikers and horses will be sharing this heavily used segment of the trail as they head up to the Sperry Chalet and other points in the area.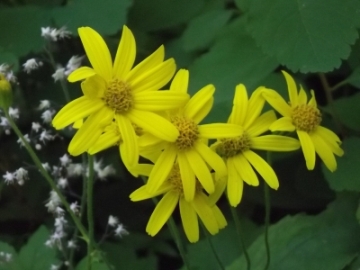 Just one-tenth of a mile past the Mt. Brown Trail junction is the turn-off for the Snyder Lake Trail. After turning left at the junction the trail continues to follow Snyder Creek, which flows down the valley between Mt. Brown and Edwards Mountain. Much of the route to Snyder Lake passes through tall vegetation, so it's a very good idea to make a lot of noise and keep an eye out for bears as you proceed up the valley. Hikers will also see a wide variety of wildflowers along this section of the trail as well.
After gaining another 1000 feet over the course of the next 2.5 miles, the trail tops out at nearly 5250 feet, before making a short descent down to the lake.
Snyder Lake lies in a basin surrounded by 8565-foot Mt. Brown towards the north, and Edwards Mountain towards the south. 7886-foot Little Matterhorn, towards the northeast, is the mountain that lies directly ahead of you as you arrive at the foot of the lake. If you look closely you'll notice a couple of waterfalls cascading down the cliff walls surrounding the lake.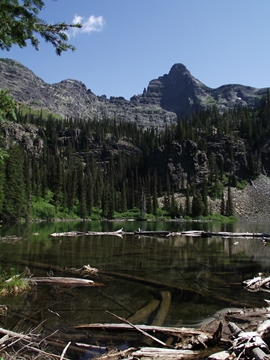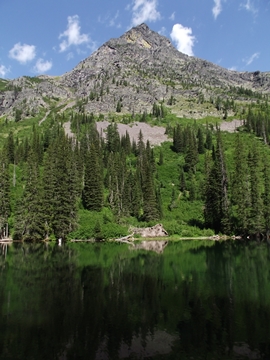 Both the lake and creek are named after George Snyder, the man who built a framed hotel in 1895 on the present day site of the Lake McDonald Lodge. During that same year Snyder would build a road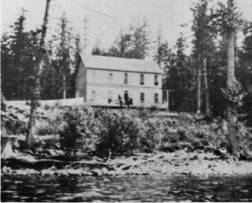 from the new railroad depot at Belton (now called West Glacier) to the small village of Apgar. The road would allow Snyder to transport the 40-foot steamboat that he had just purchased to Lake McDonald. The road would also allow visitors arriving by railroad to travel to Apgar, board his steamboat, and then sail the eight miles up the lake to stay at his hotel, known as the "Glacier Hotel".
The official trail ends at Lower Snyder Lake. However, the adventurous can continue their hike by bushwhacking up a relatively steep slope alongside Snyder Creek to visit an unnamed waterfall and Upper Snyder Lake.