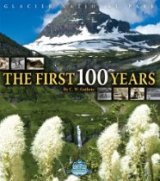 Running Eagle Falls
Trail Features:
Waterfalls


Trail Location:
Two Medicine (Running Eagle Falls Trailhead)
Roundtrip Length:
0.6 Miles
Total Elevation Gain:
15 Feet
Avg. Elev Gain / Mile:
50 Feet
Highest Elevation:
4952 Feet
Trail Difficulty Rating:
0.63 (easy)
Parking Lot Latitude
48.49601
Parking Lot Longitude
-113.34823
Trail Description
:
The trailhead for Running Eagle Falls is located 1.1 miles west of the Two Medicine entrance station.
Running Eagle Falls, also known as "Trick Falls", flows off the river between Two Medicine Lake and Lower Two Medicine Lake.
The trail to the falls is a wide, well maintained path suitable for everyone in the family. It's also one of two trails in the park that is handicap accessible. The Trail of the Cedars on the west side of Glacier is the other.
Just prior to reaching the falls you'll cross a footbridge. The platform overlooking the falls is roughly three-tenths of a mile away from this point. There are, however, several places in this vicinity that offer alternative vantage points for viewing these very impressive falls.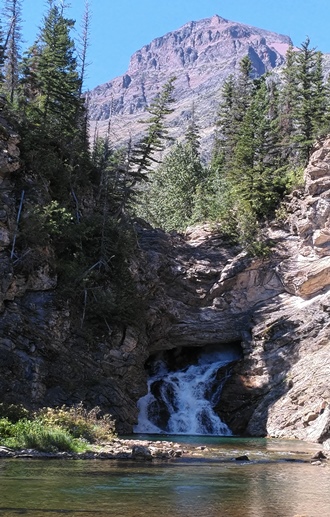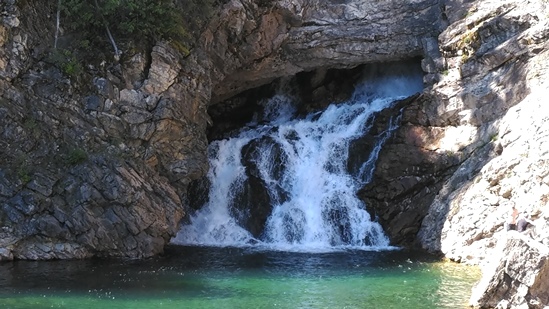 The waterfall receives its nickname, "Trick Falls", because there are actually two separate waterfalls in the same location. During the spring run-off water rushes over the top ledge for a 40-foot drop, while obscuring the lower falls. However, by late summer, after the upper falls has dried up, water continues to rush through a sink hole at the top of the cliff before flowing out of an opening in the cliff face, thus creating the lower 20-foot falls.
Towering prominently above the falls is 9513-foot Rising Wolf Mountain.
The falls are named after Pitamakan, or Running Eagle, a female warrior leader of the Blackfeet Nation in the early 1700s who experienced a four-day vision quest in the mountains high above the falls. Running Eagle led war parties on many highly successful raids, and was the only woman in the Blackfeet tribe ever to do so, or to be given a man's name.