Paradise Point
Trail Features:
Scenic lake views


Trail Location:
Two Medicine (South Shore Trailhead)
Roundtrip Length:
1.4 Miles
Total Elevation Gain:
220 Feet
Avg. Elev Gain / Mile:
314 Feet
Highest Elevation:
5278 Feet
Trail Difficulty Rating:
1.84 (easy)
Parking Lot Latitude
48.48381
Parking Lot Longitude
-113.36954
Trail Description
:
The hike to Paradise Point begins from the South Shore Trailhead at Two Medicine Lake. Just going to the trailhead is a worthwhile experience. The view from the eastern shore of the lake, with Sinopah Mountain, Lone Walker Mountain and Flinsch Peak forming a picture perfect backdrop, is one of the most beautiful scenes in Glacier National Park.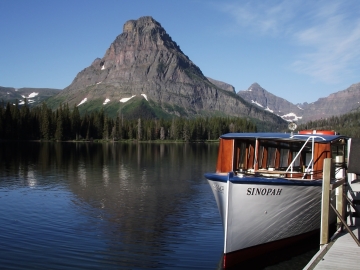 At just over a quarter-of-a-mile from the trailhead you'll reach the side trail that leads to Paradise Point, a small beach area on Two Medicine Lake. To visit Paradise Point, hikers should turn right here. From the junction the trail travels downhill for another four-tenths of a mile before reaching the shoreline of the lake. As you get closer to the water you should keep an eye out for moose, as the route passes through some pretty good moose habitat.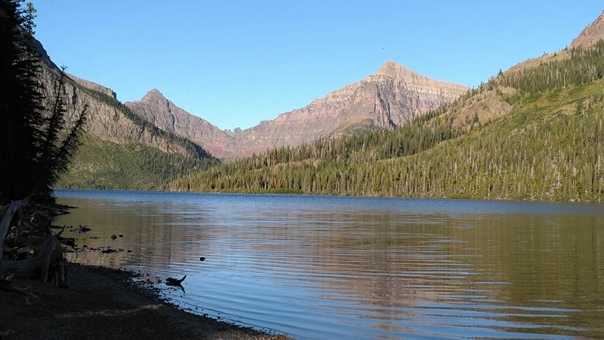 From the beach you'll have commanding views of Rising Wolf Mountain directly across the lake. Paradise Point is also a great place for a picnic lunch, watching kayakers, casting a line, or simply watching Sinopah as she shuttles hikers across the lake.
Two Medicine Lake is roughly 2 miles in length, has a maximum width of a third-of-a-mile, and has a surface area of 432 acres. The cold, glacially-fed lake is also known for having very good brook and rainbow trout fishing.
Many of the place names in the Two Medicine area have strong interconnections. According to Through The Years In Glacier National Park, Sinopah was the wife of Hugh Monroe, the first white man to live with the Blackfeet Indians. His Indian name was Rising Wolf, a reference to Monroe's habit of getting out of bed in the morning on his hands and knees. Sinopah, which means "kit fox", was also the daughter of Lone Walker, a powerful Blackfoot chief.