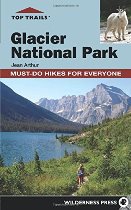 Top Trails: Glacier National Park. Local author Jean Arthur leads visitors to secluded trails and unique settings while providing details of current and past human activity, wildlife, and geology.
No Name Lake
Trail Features:
Alpine Lake, Scenic views


Trail Location:
Two Medicine Boat Dock
Roundtrip Length:
5.4 Miles
Total Elevation Gain:
905 Feet
Avg. Elev Gain / Mile:
335 Feet
Highest Elevation:
6012 Feet
Trail Difficulty Rating:
7.21 (moderate)
Parking Lot Latitude
48.48381
Parking Lot Longitude
-113.36954
Trail Description
:
The hike to No Name Lake begins from the North Shore Trailhead, located in the campground at Two Medicine Lake. However, you can shave roughly 4 miles off your roundtrip hike by taking the shuttle boat across Two Medicine Lake. The following describes the hike for those wishing to take the boat to the west end of the lake. Please note that there is a fee for the boat ride.
After arriving at the boat landing your hike begins with a walk along a short section of boardwalk that passes over a sensitive, boggy area. Although I've never seen one here, this is likely a good place to spot a moose, especially during the morning hours. A short distance later you'll arrive at the South Shore Trail junction, which connects hikers with the Two Medicine Pass Trail. To continue towards the lake you should proceed straight ahead here.
The early portions of the hike passes through an area thick with ferns, thimbleberries and huckleberries.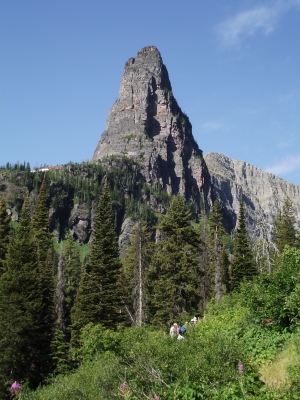 Roughly three-quarters of a mile from the boat landing the trail crosses a footbridge. A short distance later you'll reach the North Shore Trail junction, which connects with the Dawson Pass Trail. Hikers should turn right here. A turn to the left leads to Twin Falls and Upper Two Medicine Lake. At 1.1 miles hikers will finally reach the Dawson Pass Trail. You should turn left at this junction.
Up to this point the trail has traveled over relatively flat terrain, but now the climbing begins in earnest.
Just beyond the junction the impressive 7620-foot Pumpelly Pillar comes into view. This cone-shaped, glacially carved rock is named after Raphael Pumpelly, leader of the Northern Transcontinental Railway Survey party that crossed Pitamakan Pass in 1883.
As you proceed along the Dawson Pass Trail you'll pass several more huckleberry patches. Although there may not be as many grizzly bears in the Two Medicine area as compared to other parts of Glacier, the route does pass through prime grizzly bear habitat, which means you'll still need to make a lot of noise and carry bear spray.
Roughly two miles from the boat dock, after climbing a series of short switchbacks, the trail flattens out a bit, and remains relatively flat until reaching the side path to No Name Lake. At roughly 2.7 miles hikers will finally arrive at the No Name Lake Trail junction. From here it's a short walk of only a tenth-of-a-mile to reach the lakeshore.
This beautiful, aqua-green lake sits under the sheer walls of Pumpelly Pillar and 8538-foot Mt. Helen. Hikers will enjoy a small beach area along the northwestern shore of this small, peaceful lake. Just past the beach is a backcountry campground that includes three tent sites. The trail continues for a short distance beyond the campground if you wish to see additional views of the surrounding area.
According to the United States Geological Survey website, a proposal to change the name of No Name Lake, to Engagement Lake, was submitted in January of 2005. It was rejected later that same year in accordance with an agreement on the findings and recommendations from the Glacier County Commissioners, the Montana State Board on Geographic Names, and the National Park Service, all of which cited a belief that a long-standing name in published documents, and in local use, should not be changed.