Hidden Falls
Trail Features:
Waterfalls, Forest hike


Trail Location:
Many Glacier Hotel Boat Dock
Roundtrip Length:
2.5 Miles
Total Elevation Gain:
250 Feet
Avg. Elev Gain / Mile:
200 Feet
Highest Elevation:
4990 Feet
Trail Difficulty Rating:
3.0 (easy)
Parking Lot Latitude
48.79667
Parking Lot Longitude
-113.65815
Trail Description
:
The hike to Hidden Falls begins near the shoreline of Swiftcurrent Lake, located at the south end of the Many Glacier Hotel. However, you can shave 5 miles off your roundtrip hike by taking the two shuttle boats across Swiftcurrent Lake and Lake Josephine. This hike description assumes you'll take the shuttle boats, therefore this hike begins from the boat dock at the Many Glacier Hotel. Please note that there is a fee to board the two boats.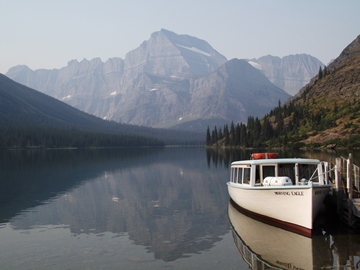 The express boat shuttles hikers across Swiftcurrent Lake in about 8 minutes. From the landing on the south side of the lake you'll take the paved trail over to Lake Josephine. This short 0.2-mile walk climbs about 80 feet before descending back down to the lakeshore. From here you'll board the Morning Eagle and take the 12-minute shuttle across Lake Josephine.
From the boat landing on the south end of Lake Josephine hikers should proceed along the trail that leads towards the right. In a very short distance you'll reach the Grinnell Glacier Trail junction. Hikers should proceed straight ahead here to continue towards Hidden Falls.
For most of its length the path travels through a quiet forest. Hikers will also pass by a couple of small streams along the way, as well as several thimbleberry patches.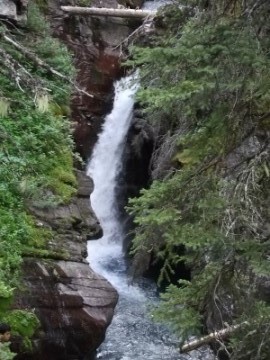 Roughly two-thirds of a mile from the boat dock you'll reach a couple of pit toilets. Just beyond this point is a horse path and a hitching post. Hikers should proceed straight ahead at this juncture.
Less than a mile from the boat dock you'll reach the suspension footbridge over Cataract Creek. Crossing over the bridge eventually leads to Grinnell Lake. The short side trail that leads up to Hidden Falls is located here as well. Hikers should turn left here to continue towards the falls.
The wooden platform that overlooks Hidden Falls is only a tenth-of-a-mile beyond the junction. However, the trail makes a fairly steep ascent for a very short distance before leveling out again.
After viewing the 25-foot waterfall, "hidden" in a deep gorge cut by Cataract Creek, hikers will have the option of taking the easy stroll over to Grinnell Lake. This would add only another half-mile to your total roundtrip mileage.