Counter Assault Bear Deterrent
is the only spray to meet or exceed IGBC recommendations. It has the maximum strength allowed by the EPA and Health Canada, and exceeds Bear Biologist and Wildlife Specialist recommendations for bear spray. The 10.2 oz. unit has a spray time of 9.2 seconds and a spray distance of 32 feet. This is the brand carried by rangers in Glacier and Yellowstone.
Gunsight Lake
Trail Features:
Outstanding views, Subalpine Lake, Flowers


Trail Location:
Jackson Glacier Overlook
Roundtrip Length:
12.6 Miles
Total Elevation Gain:
1500 Feet
Avg. Elev Gain / Mile:
238 Feet
Highest Elevation:
5374 Feet
Trail Difficulty Rating:
15.60 (strenuous)
Parking Lot Latitude
48.6777
Parking Lot Longitude
-113.6525
Trail Description
:
The hike to Gunsight Lake begins from the Jackson Glacier Overlook, located 12.6 miles west of the St. Mary Entrance Station on the Going-To-The-Sun Road. The trailhead is located near the eastern end of the parking area. To visit the lake hikers will take the Piegan Pass Trail southbound, towards the Reynolds Creek Backcountry Campground.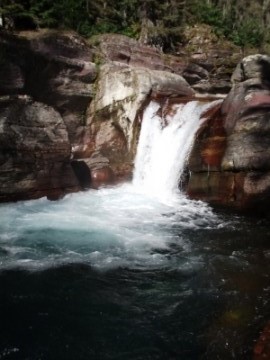 From the roadside parking area, down to Deadwood Falls, the trail drops 665 feet in less than 1.2 miles. Sounds easy enough, but don't forget you'll have to climb back up this same trail on your return trip!
Along the way you'll pass several thimbleberry patches, as well as large amounts of cow parsnip, an important source of food for grizzly bears during the spring.
After hearing the rush of water cascading down Reynolds Creek for some time, the creek finally comes into view roughly 1.1 miles from the trailhead. Walk just a little further down the trail and you'll arrive at Deadwood Falls, a beautiful 10-foot waterfall with deep crystal clear pools of water above and below the falls. There's quite a bit of rock around the waterfall, making this an excellent spot for a snack break or a picnic lunch.
Walk another tenth-of-a-mile past Deadwood Falls and you'll reach the Gunsight Pass Trail junction. To continue on towards Gunsight Lake hikers should turn right here. Just beyond the junction is a fairly long suspension footbridge, and on the other side is the Reynolds Creek Campground which offers 2 backcountry campsites, both of which can be reserved ahead of time.
At 1.8 miles you'll reach the St. Mary River. Look across the valley for some great views of Dusty Star and Citadel Mountain off to your left. This is a swampy area with lots of willows, and is likely a great place to spot a moose if you're lucky.
From here you'll proceed along the north side of the river valley. The trail never really leaves the forest, but at roughly 2.9 miles you'll reach an opening in the canopy that provides one of the most magnificent views in Glacier National Park. In the foreground is an open grassy meadow alongside Mirror Pond. Framing the background of this incredibly beautiful scene is Mount Jackson, Gunsight Mountain and Fusillade Mountain, as well as Gunsight Pass. As a result of glare from the afternoon sun diminishing the quality of this spectacular view, I highly recommend starting your hike early.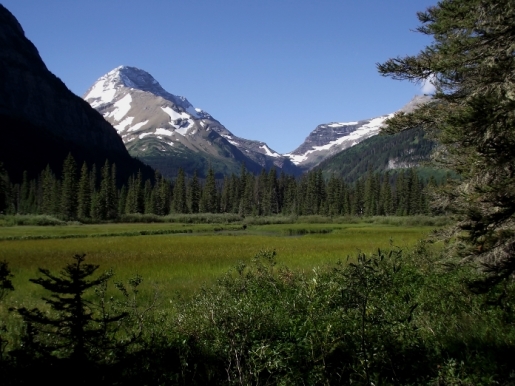 As already mentioned, you should keep an eye out for moose in this valley. We happened to see one foraging for food around the pond on our return trip.
Throughout much of this hike the trail passes through several long sections of chest high vegetation. I'll emphasize again that you should always travel in groups of at least three, make lots of noise, and carry bear spray, especially on a trail such as this. It was near this area that my wife and I had an encounter with a bear on our most recent visit. No more than 30 seconds after shouting out "hey bear", and maybe only 20 feet from where we stood, we heard a loud crashing noise through the undergrowth as a bear tried to get out of our way. Yes, our heart rates went through the roof for a minute or so!
At 3.9 miles hikers will reach a series of cascades on your left. Just beyond this point is the side trail that leads to Florence Falls. If you have the time and energy, this one shouldn't be passed up, as it is one of the most impressive waterfalls in Glacier. To continue on towards Gunsight Lake hikers should proceed straight ahead at this junction.
At 4.7 miles you'll emerge from the forest, and soon after will have spectacular views of 9239-foot Mt. Logan, Blackfoot Glacier, Jackson Glacier and 10,052-foot Mt. Jackson off to your left.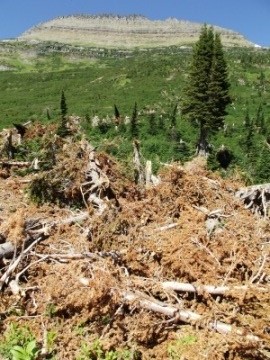 Roughly one mile later you'll reach an area that was devastated by a massive avalanche during the historic winter of 2010-2011. Look up on the hillside to your right and you'll see hundreds of trees that were snapped off just a couple feet above the ground. While hiking this trail in September of 2011 we were forced to bushwhack through a long section of trail, more than a tenth-of-a-mile in length, that was choked with dead trees and crushed willows. Underneath the debris in a number of places were several feet of packed snow and ice. As a result of the heavy amounts of snow the park received that winter, the trail over Gunsight Pass didn't open in 2011.
At roughly 6.25 miles hikers will reach the backcountry campground at Gunsight Lake (which contains seven campsites, four of which can be reserved ahead of time). If you continue on the main trail for another hundred yards or so you'll notice a very large boulder. Just past this boulder hikers should turn right onto a social trail that passes through a willow thicket. This short path leads to a small beach area near the foot of the lake.
In my opinion Gunsight Lake is one of the most scenic lakes in Glacier National Park. On the far end of the lake is 9258-foot Gunsight Mountain, Gunsight Pass and the Continental Divide. On your right, towards the north, is Fusillade Mountain. And if you look closely you'll be able to see the Gunsight Pass Trail as it travels towards the pass along the northwestern slopes of Mount Jackson, on your left. On the other side of Gunsight Mountain is Sperry Glacier.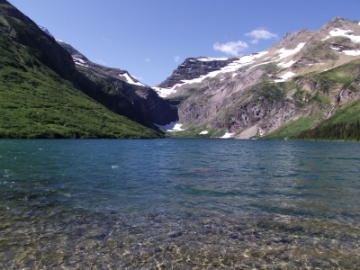 From the lake hikers have the option of continuing up to Gunsight Pass, which would add another 1.5 miles of hiking and another 1600 feet of climbing.
Also, just beyond the beach area is a side trail that leads to a close-up view of Jackson Glacier. This trail is a little more than a mile long and climbs roughly 625 feet to reach the vantage point.