Grinnell Lake
Trail Features:
Lake, Scenic views


Trail Location:
Many Glacier Hotel Boat Dock
Roundtrip Length:
3.0 Miles
Total Elevation Gain:
220 Feet
Avg. Elev Gain / Mile:
147 Feet
Highest Elevation:
4960 Feet
Trail Difficulty Rating:
3.44 (easy)
Parking Lot Latitude
48.79667
Parking Lot Longitude
-113.65815
Trail Description
:
The hike to Grinnell Lake begins from the shoreline at the south end of the Many Glacier Hotel. However, you can shave 5 miles off your roundtrip hike by taking the two shuttle boats across Swiftcurrent Lake and Lake Josephine.
The following description for this hike to Grinnell Lake begins from the boat dock at the Many Glacier Hotel. Please note that there is a fee to ride the two shuttles.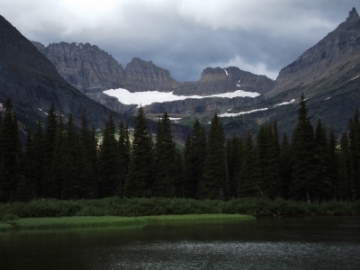 The express boat shuttles hikers across Swiftcurrent Lake in about 8 minutes. From the landing on the south side of the lake you'll take the paved trail over to Lake Josephine. This short 0.2-mile walk climbs about 80 feet before descending back down to the lake. From here you'll board the Morning Eagle and take the 12-minute shuttle across Lake Josephine.
From the boat landing on the south end of Lake Josephine, hikers should take the trail that leads towards the right. In a very short distance you'll reach the junction with the Grinnell Glacier Trail. You should continue going straight here to reach Grinnell Lake.
For most of its length the path travels through a quiet forest. Hikers will also pass by a couple of small streams along the way, as well as several thimbleberry patches.
Roughly two-thirds of a mile from the boat dock you'll reach a couple of pit toilets. Just beyond this location is a horse path and a hitching post. Hikers should continue going straight at this juncture.
Less than a mile from the boat dock you'll reach the suspension bridge over Cataract Creek. The short side trail that leads up to Hidden Falls is located here as well.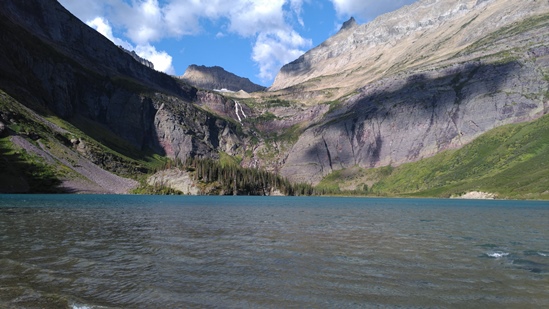 To continue on towards the lake you'll have to cross the bridge. Beyond the creek the trail passes over a series of wooden boardwalks that carry hikers above a few boggy areas.
Roughly 1.3 miles from the boat dock you'll reach Grinnell Lake, which sits just below Grinnell Falls on the far western shore. Directly above the waterfall you'll catch a small glimpse of The Salamander, a glacier that covers roughly 57 acres on a ledge above Grinnell Glacier. Towards the south is Angel Wing, and towards the north is 8851-foot Mt. Grinnell.
Depending on the angle of the sun, the lake has an emerald, or opaque turquoise appearance, the result of glacial silt being transported down from Grinnell Glacier.
The lake, falls, mountain and glacier are all named after George Bird Grinnell, an early American conservationist, explorer, and founder of the Audubon Society. Grinnell was so inspired by the scenery during his first trip to the area in 1885 that he spent the next two decades working to establish it as a national park. In 1896 Grinnell was one of the three commissioners to sign the treaty with the Blackfeet Indians that transferred the land that would become Glacier National Park.