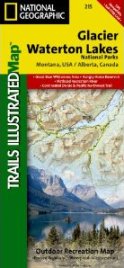 National Geographic
Trails Illustrated Map
for Glacier National Park contains detailed topographic info, named and clearly marked trails, recreational points of interest, and navigational aids for both Glacier and Waterton Lakes National Park in Canada.
Bicycling in Glacier National Park
Although opportunities for cycling in Glacier National Park are somewhat limited, there are still a few places to enjoy Glacier's spectacular scenery while on a bike. Although bicycles aren't allowed on any of the hiking trails in the park, they are allowed on all roads, and the only paved trail in the park; the McDonald Creek Bike Path which runs from West Glacier to the Apgar Visitors Center. Relatively flat, the two-mile long bike path is perfect for an easy stroll or a family bike outing.
One of the most popular routes for road cyclists is the Going-to-the-Sun Road. This epic ride climbs almost 3300 feet over the course of its 32-mile route from the Apgar Visitor Center to Logan Pass. Much of the climbing, however, occurs over the last 10 miles where the road tops out at the pass at an elevation of 6646 feet. The average gradient for this section of the ride is roughly 5.7%. To put those numbers in perspective, L'Alpe d'Huez, one of the most famous and notoriously difficult climbs in the Tour de France, climbs roughly 3770 feet in 9.4 miles, has an average gradient of 7.6%, and tops out at 6068 feet. It's likely the Going-to-the-Sun Road climb would rank among the top 20 toughest climbs in the Tour de France, and would likely be a category 1 climb.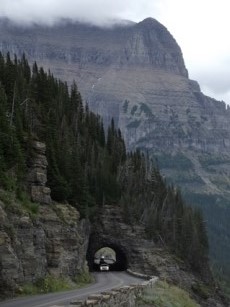 Cyclists should use extreme caution while riding this road: it's narrow near the top, and is nothing more than a shelf carved out of the side of the mountain. Also, you should be aware that the Going-to-the-Sun Road has little or no shoulder on the side, and is winding with many blind curves. You'll need to watch for oncoming vehicles, and make sure your bike is in complete working order, especially your brakes.
Please note that for safety purposes, and as a way of easing congestion, the following restrictions have been in put place by the Park Service between June 15 and Labor Day:
From the Apgar Campground to the Sprague Creek Campground, bicycles are prohibited in both directions from 11 a.m. to 4 p.m.
From Logan Creek to Logan Pass, east-bound (uphill) bicycle traffic is prohibited between 11 a.m. and 4 p.m. as well.
Some cyclists prefer tackling the road from east to west. From St. Mary to Logan Pass, the road climbs roughly 2100 feet over the 18-mile route. However, as you might expect, most of that climbing occurs over the last 6.5 miles, and has an average gradient of roughly 5.6%.
For more information on the Going-to-the-Sun Road, please click here.
Other good road bike options include the 11-mile Camas Road, north of Apgar, and the 9-mile Two Medicine Road. The 12-mile Many Glacier Road is another option, however, until the road is re-paved, it would be a fairly rough and bumpy ride.
Mountain Biking
Mountain bikers have a few alternative options for riding in the Glacier National Park area. One of the best places to ride is in the North Fork area along the Inside North Fork Road (north of Polebridge, located in the northwestern part of the park). A favorite ride among many cyclists is the gravel road from Polebridge to Kintla Lake. This 14-mile ride offers outstanding scenery with very little traffic. Mountain bikers also have the option of taking the 6-mile side trip to Bowman Lake.
Another great option is the section of the Inside North Fork Road south of Polebridge. This route, between Fish Creek and Polebridge, travels through some of the park's most pristine wilderness areas. The 28-mile gravel road is narrow and bumpy, but provides awesome scenery and some great opportunities to see wildlife up close.
One other option for mountain bikers is at the Whitefish Mountain Resort. The ski resort, just north of the town of Whitefish, offers more than 20 miles of lift-accessed and cross country mountain bike trails.
If you do plan to bike in Glacier, keep in mind that cyclists must observe all traffic regulations. Keep well to the right side of the road, and ride in single file only. Pull off the road if four or more vehicles stack up behind you. In fog, or after dark, a white light in front, and a red reflector on the rear of your bicycle are required. Be visible! Helmets are also strongly advised. Attach a bright flag on a pole and wear light-colored clothing. Finally, watch for falling rocks, drainage grates, and ice on the road.
Hiker / Biker Campsites
A limited number of campsites at Apgar, Fish Creek, Sprague Creek, Avalanche, Many Glacier, Rising Sun, Two Medicine, and St. Mary are available for bicyclists and hikers. Sites are shared with a capacity of up to 8 people; larger groups must split up or use group sites where available. The fee is $5.00 per person per night. If hiker/biker sites are full or campers do not want to share a site, hikers and bicyclists must use regular unoccupied campsites.
Hiker / bicycle sites are for non-motorized campers only. Motorcyclists must use regular unoccupied campsites. For more information on camping, please click here.