Counter Assault
is the only bear deterrent that meets or exceeds IGBC recommendations. The 8.1 oz. unit has a spray time of 7.2 seconds and a spray distance of 30 ft. The 10.2 oz. unit has a spray time of 9.2 seconds and a spray distance of 32 ft. Counter Assault, headquartered in Kalispell, MT, is the brand carried by park rangers in Glacier and Yellowstone.
Camping in Glacier National Park
Frontcountry Camping:
Camping in Glacier National Park is permitted only in designated campgrounds. Glacier's 13 campgrounds provide more than 1000 campsites, with most available on a first-come, first serve basis. There are two campsites that can be reserved in advance (Fish Creek and St. Mary), however, neither can be reserved more than 6 months in advance. The exception to this rule is the group campsite at St. Mary, which can be reserved up to 12 months in advance. You can reserve a campsite through the National Reservation System by clicking here.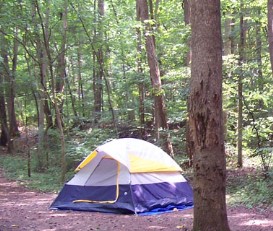 In addition to St. Mary, there are three other campgrounds in Glacier that accommodate group campers. Group sites for 9-24 campers are available at Apgar, Many Glacier, St. Mary, and Two Medicine.
Only two campgrounds are open in the winter: Apgar and St. Mary.
For more in depth information on each of Glacier's campgrounds, including a campground locator map, please click here.
For more information on camping in Glacier, including operating dates and fees, and information with regards to camping in bear and mountain lion country, please click here.
Backcountry Camping:
Glacier National Park is a hiker's paradise, and consistently ranks as one of the most popular backpacking destinations in the National Park System. There are 65 backcountry campgrounds, containing between 2 and 7 campsites. With Glacier's free shuttle system on the Going-To-The-Sun Road, combined with fee-based shuttles on the eastern side of the park, there are numerous one-way backpacking trips that can be created.
To camp in the backcountry you'll need a permit, which is issued the day before or the day of a desired trip start date, on a first come basis. Online advance reservations can also be made, starting March 15th for groups of 1-8 campers, and March 1st for groups of 9-12 campers, for trips that begin on June 15th through September 30th. Advanced reservations are also on a first-come, first-served basis. Advanced reservation requests are accepted up to seven days prior to a trip start date.
Each campsite is limited to a maximum of four people and two small 2-4 person tents. The maximum party size allowed is 12 persons. Please note that it can be very difficult for a large party to obtain the campsites needed for their itinerary. Backpackers should also note that some campsites have a one night limit, per trip, in July and August.
To begin the planning process it's best to read the park backcountry camping guide. This comprehensive page includes information on regulations, safety tips, trail status reports, campsite GPS coordinates, shuttles, as well as several videos on backcountry camping in Glacier National Park.
For details on the new online advance backcountry camping reservation process, please click here.