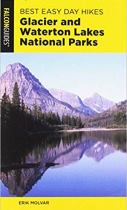 Best Easy Day Hikes Glacier & Waterton Lakes contains maps & concise descriptions for 28 hikes. Each of the hikes are relatively short, on well- defined, easy-to-follow trails that take you to some of the area's most spectacular scenery - without taking you to physical extremes.
The Best Easy Hikes in Glacier National Park
While creating my list of the Top 10 Hikes in Glacier National Park, I realized that many of the trails that made the list were fairly long day hikes, which obviously won't appeal to everyone. So I decided to start from scratch and build a new list, based on the best of the easier hikes in Glacier. Hopefully you'll find this helpful as a starting point in trying to decide where to hike during your visit.
Hidden Lake Overlook – This extremely popular hike, starting from Logan Pass, visits the Hidden Lake Overlook where you'll have outstanding panoramic views into the heart of Glacier.
Redrock Falls - An outstanding choice for an easy hike. In addition to the very impressive series of cascades and falls, you'll also visit two picturesque sub-alpine lakes, and maybe even have a chance to see a moose along the way.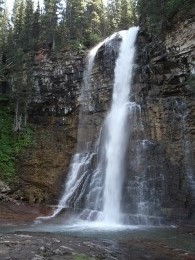 Virginia Falls - Dropping more than 50 feet off a sheer cliff face, Virginia Falls just might be one of the most beautiful falls I've ever seen. Additionally, waterfall aficionados will get a chance to see St. Mary Falls, and two other very impressive, but unnamed falls along the way.
Swiftcurrent Nature Trail – Take an easy stroll around Swiftcurrent Lake for some outstanding views of the Many Glacier Valley. As a bonus, you may even see a bear or a moose along the way. Hikers will also have the option of extending their hike to include the loop around the exceptionally beautiful Lake Josephine.
Johns Lake Loop - Easy loop hike that visits a small woodland pond, Sacred Dancing Cascade, and McDonald Falls.
St. Mary Falls - If you're looking for a very short hike to see an awesome waterfall, this should fit the bill.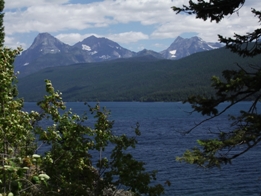 Rocky Point - Stunning views of Lake McDonald, as well as the mountains in the Sperry Glacier vicinity.
Running Eagle Falls - "Trick Falls" is a must see in the Two Medicine Area. It's a very easy, handicap accessible trail.
Forest and Fire Nature Trail – This is a great hike if you're looking to get away from the crowds. Witness the re-growth of a brand new forest as it recovers from the 2001 Moose Fire.
Trail of the Cedars – This popular loop hike travels along a raised boardwalk as it passes though a forest of ancient western hemlocks and red cedars. You'll also have outstanding views of the stunning Avalanche Gorge.
While planning your visit, be sure to visit our accommodations page for a variety of lodging options in the Glacier National Park area.