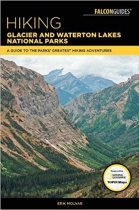 Hiking Glacier and Waterton Lakes Nat'l Parks
provides details for more than 60 hikes in the area. The book provides trail descriptions, difficulty ratings, average hiking times, best hiking seasons, GPS-compatible maps, and hikes suited to every ability.
Florence Falls
Trail Features:
Waterfalls, Forest hike


Trail Location:
Jackson Glacier Overlook
Roundtrip Length:
9.8 Miles
Total Elevation Gain:
975 Feet
Avg. Elev Gain / Mile:
199 Feet
Highest Elevation:
5305 Feet
Trail Difficulty Rating:
11.75 (strenuous)
Parking Lot Latitude
48.6777
Parking Lot Longitude
-113.6525
Trail Description
:
The trailhead for the hike to Florence Falls is located 12.6 miles west of the St. Mary Entrance Station on the Going-To-The-Sun Road. The hike begins from the Jackson Glacier Overlook where hikers will take the Piegan Pass Trail down to Reynolds Creek. Look for the trailhead near the eastern end of the parking area.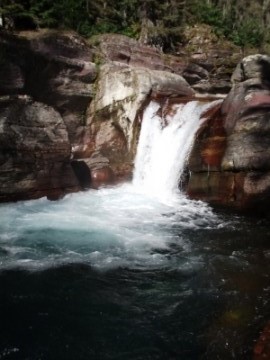 From the roadside parking area, down to Deadwood Falls, the trail drops 665 feet in less than 1.2 miles. Sounds easy enough, but don't forget you'll have to climb back up this same trail on your return!
Along the way you'll pass several thimbleberry patches, as well as a lot of cow parsnip which grizzly bears love to munch on in the spring.
After hearing the rush of water cascading down Reynolds Creek for some time, the creek finally comes into view roughly 1.1 miles from the trailhead. Walk just a little further down the trail and you'll arrive at Deadwood Falls, a beautiful 10-foot waterfall with deep crystal clear pools of water above and below the falls. There's a lot of rock around the falls, making this an excellent spot for a snack break or a picnic lunch.
Walk another tenth-of-a-mile past Deadwood Falls and you'll reach the Gunsight Pass Trail junction. To continue on to Florence Falls, turn right here. Just beyond the junction is a fairly long swinging bridge, and on the other side is the Reynolds Creek Campground which offers 2 backcountry campsites, both of which can be reserved.
At 1.8 miles you'll reach the St. Mary River. Look across the valley for some great views of Dusty Star and Citadel Mountain on your left. This is a swampy area with a lot of willows, and is likely a great place to spot a moose if you're lucky.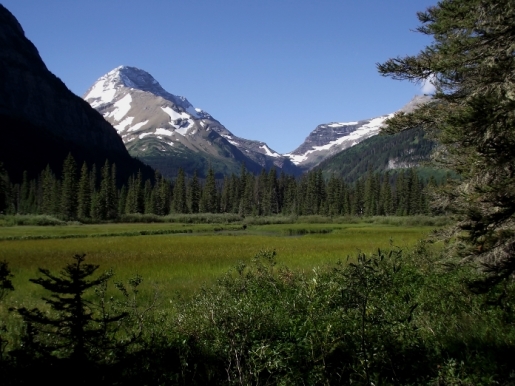 From here you'll proceed along the north side of the river valley. The trail never really leaves the forest, but at roughly 2.9 miles you'll reach an opening that provides one of the most magnificent views in Glacier National Park. In the foreground is an open grassy area alongside Mirror Pond. Framing the background of this incredibly beautiful scene is Mount Jackson, Gunsight Mountain and Fusillade Mountain, as well as Gunsight Pass. To witness this in person I would highly recommend getting here early, as the glare of an afternoon sun will diminish the quality of the views.
As already mentioned, you should keep an eye out for moose in this valley. We happened to see one foraging for food around the pond.
Throughout much of this hike the trail passes through several long sections of chest high vegetation. I'll emphasize again that you should travel in groups of at least three, make lots of noise and carry bear spray, especially on a trail like this. It was near this area that my wife and I had an encounter with a bear on our most recent visit. No more than 30 seconds after shouting out "hey bear", and maybe only 20 feet away from our position, we heard a loud crashing noise through the undergrowth as a bear tried to get out of our way.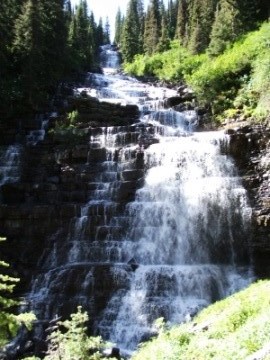 At 3.9 miles you'll reach a series of cascades on your left. Just beyond this point is a side trail on your right that leads to Florence Falls. The waterfall is about a mile away from this junction.
As you proceed up the Florence Falls Trail you'll be traveling through some pretty thick, chest high vegetation, including thimbleberries, wildflowers and cow parsnip. In other words, prime grizzly habitat.
When you reach what appears to be the end of the trail, you're going to be at eye level with the base of Florence Falls. From this angle, however, you won't be able to see the entire falls. If you can, scramble up the hillside for about 10-15 feet where you'll be able to see almost the entire waterfall as it tumbles more than a hundred feet down the cliff, in perfect stair step fashion.
Although my photos really don't do it justice, this is one of the most impressive waterfalls in Glacier National Park.