Fish Lake
Trail Features:
Lake, Forest hike


Trail Location:
Lake McDonald Lodge
Roundtrip Length:
5.8 Miles
Total Elevation Gain:
1210 Feet
Avg. Elev Gain / Mile:
417 Feet
Highest Elevation:
4260 Feet
Trail Difficulty Rating:
8.22 (moderate)
Parking Lot Latitude
48.61686
Parking Lot Longitude
-113.87554
Trail Description
:
The hike to Fish Lake begins from the Sperry Trailhead, located across the road from the Lake McDonald Lodge. In a very short distance, after passing the horse path, the trail becomes known as the Gunsight Pass Trail.
Almost immediately the trail begins climbing, passing through an old growth forest of red cedar, western larch and hemlock in the lower elevations, to a dense spruce-fir forest as it ascends higher. Upon reaching the Mt. Brown Trail junction, roughly 1.6 miles from the trailhead, hikers will have already climbed more than 900 feet. Many hikers and horses will be sharing this heavily used segment of trail as they head up to Sperry Chalet and other points in the area.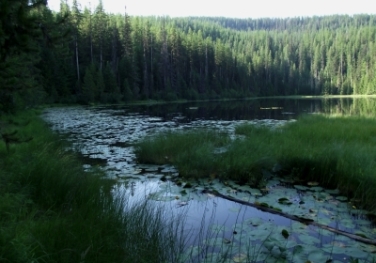 One-tenth of a mile past the Mt. Brown Trail is the Snyder Lake Trail junction, which also branches off to the left. Once past the junction the trail travels downhill for a short distance before crossing over Snyder Creek at Crystal Ford. Just across the footbridge is the Snyder Ridge Trail, which leads to Fish Lake. Hikers should turn right at this junction. Continuing on the main trail will eventually take hikers up to the Sperry Chalet.
From the junction the trail makes a relatively steep climb for a short distance, before leveling out for the remainder of its length to the lake. The path continues through a beautiful spruce-fir forest. Along the way you'll cross over Jackson Creek and Sprague Creek before reaching Fish Lake, roughly 2.9 miles from the trailhead. Upon reaching the lake there's a short side trail that leads down to the shoreline. Be forewarned though: the mosquitoes at Fish Lake can be quite thick during the late spring and early summer months.
The 8-acre lake is lined with lily pads around its perimeter, and is surrounded by a dense forest. The quiet setting makes Fish Lake a good place for a lunch break while enjoying the peaceful scenery, provided the mosquitoes aren't in season.
Fish Lake is also a good option for a hike if snow is blocking access to trails in the higher elevations.