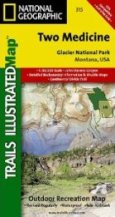 The
Two Medicine Map
includes Dawson Pass, Cobalt Lake, Piegan Pass, St. Mary, Logan Pass, The Loop, Cut Bank and more. The Glacier sectional series maps have a scale of 1:50,000, and provide much greater detail such as backcountry campsites, forest service roads, points of interests & stream crossings.
Firebrand Pass
Trail Features:
Outstanding views, Wildflowers


Trail Location:
Mile Marker 203 on US Highway 2
Roundtrip Length:
10.2 Miles
Total Elevation Gain:
1950 Feet
Avg. Elev Gain / Mile:
382 Feet
Highest Elevation:
6951 Feet
Trail Difficulty Rating:
14.10 (strenuous)
Parking Lot Latitude
48.37187
Parking Lot Longitude
-113.27949
Trail Description
:
The hike to Firebrand Pass begins from the Lubec Trailhead, located 6.1 miles south of the railroad tunnel in East Glacier on U.S. Highway 2. Look for the gravel parking area across the street from mile marker 203. The trailhead is located across the railroad tracks.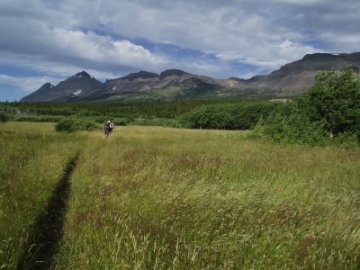 To reach Firebrand Pass hikers will make a semi-circle around Calf Robe Mountain. The hike begins in an open field, a transition zone between prairie and montane forest. Here you'll enjoy expansive views of Little Dog Mountain and Summit Mountain, as well as Calf Robe Mountain directly in front of you. You'll also likely notice a few aspen groves off in the distance as well.
As the trail climbs a little higher it enters a fairly dense forest of aspens and pine trees. The presence of so many aspens makes this an excellent choice for a fall hike when their leaves turn golden yellow and orange.
At 1.5 miles hikers will reach the Firebrand Pass Trail / Autumn Creek Trail junction. A turn to the left will take hikers through Stevens Canyon, and eventually down to Marias Pass. To continue on towards Firebrand Pass you should turn right here. Up to this point the trail has been traveling on a westerly course. It now begins heading north as it begins making its way around Calf Robe Mountain.
Just past the junction the trail emerges from the dense forest, and begins passing through a series of meadows where hikers will find a variety of wildflowers. Throughout much of the early portions of the hike the route passes through prime elk habitat. Wolves are also known to frequent this area as well.
At 2.5 miles the Autumn Creek Trail branches off to the right, and begins heading towards East Glacier. To continue on towards Firebrand Pass hikers should stay to the left here.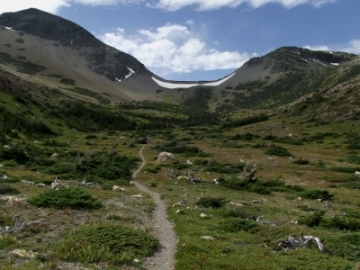 Just beyond the junction the trail finally emerges from the tree line and begins climbing fairly steeply towards the pass. As it climbs the slopes of Calf Robe Mountain its course eventually turns westward again. Hikers may experience some high winds as they proceed along this section of the trail.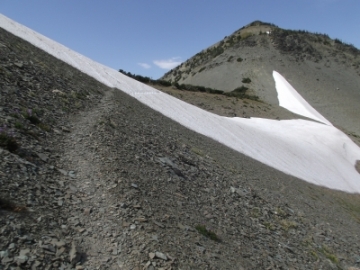 Roughly 4 miles from the trailhead hikers will reach the large basin below Firebrand Pass. It's here that you'll have your first views of your destination: the saddle between Calf Robe and 7891-foot Red Crow Mountain. You may notice that the wind has picked-up even more here. Even on a hot summer day you'll probably want to have a windbreaker with you.
Depending on your timing there may be a fair amount of snow lining the rim just below the pass. The main trail leading to the pass climbs along the eastern side of the basin, which is now on the western slopes of Calf Robe Mountain. However, if heavy snow is blocking the main route you'll have the option of taking a lightly used spur trail that leads almost directly up the middle of the pass. This route offers a much easier path through the snow, however, it's much steeper, and does require a bit of route finding.
At 5.1 miles hikers finally arrive at the top of the pass. The views on both sides are simply outstanding. On the west side of the pass you'll have commanding views of 7347-foot Skeleton Mountain and the Ole Creek drainage area.
As you may have guessed, Firebrand Pass is also known for very strong winds. At one point during our visit we recorded a wind gust of 55 MPH! Using the copse of scrub trees just below the saddle as a windbreak we were able to have a remarkably peaceful lunch. Just as I finished my sandwich I heard what sounded like rocks tumbling nearby. I looked towards Calf Robe to see several rocks falling down a talus-scree field and onto the embankment of snow below. I then noticed the cause for the small avalanche: 7 bighorn sheep were making their way down the mountain. They quickly ran across the saddle before making their way up Red Crow Mountain.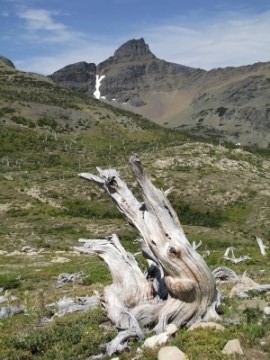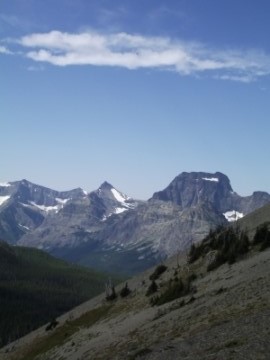 Firebrand Pass received its name from the devastating forest fires that hit this region in 1910. Wildfires torched more than three million acres of virgin forest in Washington, Idaho, and Montana, and in the process, destroyed enough timber to fill a freight train 2400 miles long. In the same year that Glacier would become a national park, more than 100,000 acres would burn within the park boundaries. It was literally a baptism by fire for the newest national park that summer.