Deadwood Falls
Trail Features:
Waterfalls, Forest hike


Trail Location:
Jackson Glacier Overlook
Roundtrip Length:
2.3 Miles
Total Elevation Gain:
665 Feet
Avg. Elev Gain / Mile:
578 Feet
Highest Elevation:
5305 Feet
Trail Difficulty Rating:
3.63 (easy)
Parking Lot Latitude
48.6777
Parking Lot Longitude
-113.6525
Trail Description
:
This hike to Deadwood Falls begins from the Jackson Glacier Overlook, located 12.6 miles west of the St. Mary Entrance Station on the Going-To-The-Sun Road. The trailhead is located near the eastern end of the parking area. To visit the falls hikers will take the Piegan Pass Trail southbound, towards the Reynolds Creek Backcountry Campground.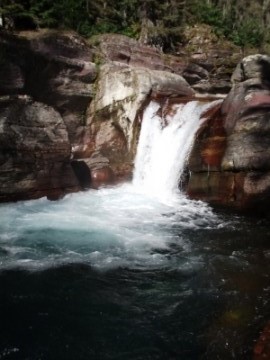 From the roadside parking area, down to Deadwood Falls, the trail drops 665 feet in less than 1.2 miles. Sounds easy enough, but don't forget you'll have to climb back up this same trail on your return trip!
Along the way you'll pass several thimbleberry patches, as well as large amounts of cow parsnip, an important source of food for grizzly bears during the spring. Hikers should make a lot of noise to help prevent a surprise encounter with a bear.
After hearing the rush of water cascading down Reynolds Creek for some time, the creek finally comes into view roughly 1.1 miles from the trailhead. Walk just a little further down the trail and you'll arrive at Deadwood Falls, a beautiful 10-foot waterfall with deep, crystal clear pools of water above and below the falls. There's also quite a bit of rock around the waterfall, making this an excellent spot for a snack break or a picnic lunch.
Deadwood Falls can also be reached from the St. Mary Falls trailhead, which would add some distance to your hike, but would involve much less climbing. Hikers will also have the option making this a one-way hike by continuing along the Piegan Pass Trail to the St. Mary Falls parking area. From here simply take the Glacier Park shuttle to return back to the Jackson Glacier Overlook parking area.