Baring Falls
Trail Features:
Waterfalls


Trail Location:
Sunrift Gorge
Roundtrip Length:
0.8 Miles
Total Elevation Gain:
160 Feet
Avg. Elev Gain / Mile:
400 Feet
Highest Elevation:
4684 Feet
Trail Difficulty Rating:
1.12 (easy)
Parking Lot Latitude
48.67854
Parking Lot Longitude
-113.59549
Trail Description
: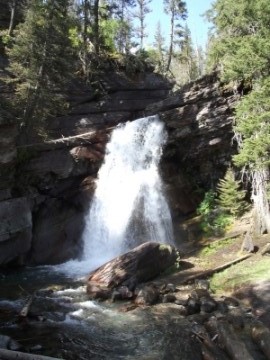 The short hike to Baring Falls begins from Sunrift Gorge, located 9.9 miles west of the Saint Mary Entrance Station on the Going-To-The-Sun Road.
You'll begin this short walk by following the Siyeh Pass Trail, which heads south from the Going-To-The-Sun Road.
Roughly three-tenths of a mile from the trailhead you'll arrive at a trail junction. Continuing straight ahead will lead hikers down towards Sun Point, roughly three-quarters of a mile away. To continue on towards the falls hikers should turn right at this junction. Roughly one-tenth of a mile further down the trail you'll reach a footbridge that crosses over Baring Creek. Just beyond the footbridge you'll have your first view of the waterfall.
Baring Falls is a pleasant waterfall that drops roughly 25 feet. After tumbling over the rock ledge, Baring Creek continues to flow for another hundred yards or so before spilling into St. Mary Lake. The area around the falls is an ideal spot for American dippers, also known as water ouzels. These small, slate-grey colored birds can be seen bobbing, or "dipping", along the rocks around the waterfall, or diving under water in search of food. Once below the surface of the water the dippers forage by either walking along the stream bottom, or by "flying" through the water, using their wings to propel themselves through the swift currents. Dippers usually nest in this area as well.
According to Through The Years In Glacier National Park, the creek and the falls are named for one of the Baring brothers, both London bankers who were guided by Joe Kipp and James Willard Schultz during a hunting trip in the Glacier Park area in the late 1880's.