Aster Park Overlook
Trail Features:
Scenic views, Waterfalls


Trail Location:
Two Medicine (South Shore Trailhead)
Roundtrip Length:
4.0 Miles
Total Elevation Gain:
780 Feet
Avg. Elev Gain / Mile:
390 Feet
Highest Elevation:
5798 Feet
Trail Difficulty Rating:
5.56 (moderate)
Parking Lot Latitude
48.48381
Parking Lot Longitude
-113.36954
Trail Description
: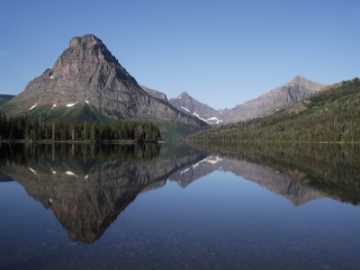 The hike to Aster Park Overlook begins from the South Shore Trailhead at Two Medicine Lake. Just going to the trailhead is a worthwhile experience. The view from the eastern shore of Two Medicine Lake, with Sinopah Mountain, Painted Tepee Peak, Lone Walker Mountain and Flinsch Peak providing a picture perfect backdrop, is one of the most beautiful scenes in Glacier National Park.
At just over a quarter-of-a-mile from the trailhead you'll reach the side trail to Paradise Point, a small beach area that offers commanding views of Two Medicine Lake and Rising Wolf Mountain. The area around the lake is pretty good moose habitat as well.
Roughly one-half mile from the trailhead hikers will arrive at the first in a series of small beaver ponds. This area, for the next quarter-mile or so, is prime habitat for moose, which are frequently seen foraging in and around the ponds, especially in the mornings and late afternoons. Throughout this area the trail travels through a montane forest of Lodgepole Pine and Douglass fir, with several small and large meadows interspersed along the way.
At 1.1 miles you'll cross over Aster Creek, and in a short distance will reach the Aster Park Trail, which leads to Aster Falls and the Aster Park Overlook.
In less than one-tenth of a mile, after turning onto the Aster Park Trail, you'll reach a spur trail that leads down to the base of Aster Falls. If your ultimate destination is the overlook, the short side trip to see the 20-foot waterfall is well worth a quick visit.
From the Aster Falls junction the trail to Aster Park Overlook climbs more than 500 feet in roughly three-quarters of a mile. Although this is a relatively steep climb, your effort will be well rewarded at the top. The overlook provides outstanding panoramic views of the Two Medicine Lake valley, as well as Flinsch Peak towards the west, and Rising Wolf Mountain directly in front of you.
Many of the place names in the Two Medicine area have strong connections. According to Through The Years In Glacier National Park, Sinopah was the wife of Hugh Monroe, the first white man to live with the Blackfeet Indians. His Indian name was Rising Wolf, a reference to Monroe's habit of getting out of bed in the morning on his hands and knees. Sinopah, which means "kit fox", was also the daughter of Lone Walker, a powerful Blackfoot chief.