Appistoki Falls
Trail Features:
Waterfalls


Trail Location:
Scenic Point Trailhead
Roundtrip Length:
1.3 Miles
Total Elevation Gain:
175 Feet
Avg. Elev Gain / Mile:
269 Feet
Highest Elevation:
5433 Feet
Trail Difficulty Rating:
1.65 (easy)
Parking Lot Latitude
48.4852
Parking Lot Longitude
-113.36146
Trail Description
:
The trailhead for Appistoki Falls begins from the Scenic Point parking area, located 2.7 miles west of the Two Medicine entrance station. Although it's a fairly large lot, parking can sometimes be an issue, especially if there's a ranger led hike scheduled for Scenic Point that day.
To reach your destination you'll be following the Mt. Henry Trail for most of your route. The trail owes its existence to the Great Northern Railway. In order to make transportation easier between their two properties, the Glacier Park Lodge and the Two Medicine Chalets, the railroad company contracted to build the trail in 1913.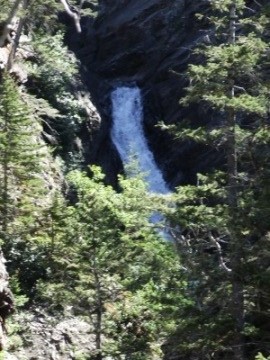 The Mt. Henry Trail also serves as a segment of the Continental Divide Trail, which runs from the Mexican border in New Mexico, all the way to the town of Waterton Park in Canada.
The hike to Appistoki Falls is a very easy and pleasant hike.
At just six-tenths of a mile from the trailhead you'll reach the short side trail that leads to the waterfall. The viewpoint for the falls is less than a hundred yards or so from the junction. The waterfall is located on Appistoki Creek, which flows out of the basin below Appistoki Peak and Mt. Henry, and into a fairly steep gorge. Unfortunately the steep terrain prevents hikers from getting an up-close view of the falls.
Appistoki Falls received its name from R. T. Evans, a topographer who worked on an early map of the park. According to Donald H. Robinson's Administrative History of Glacier National Park, Evans asked his Indian guide what word the Blackfeet used for "looking over something," and the guide, misunderstanding the meaning of his question, gave him the name "Appistoki," which is the Indian god who looks over everyone and everything.
If you wish to see more of the Two Medicine area, the Mt. Henry Trail continues up to Scenic Point where you'll have some outstanding panoramic views of the Two Medicine Valley.